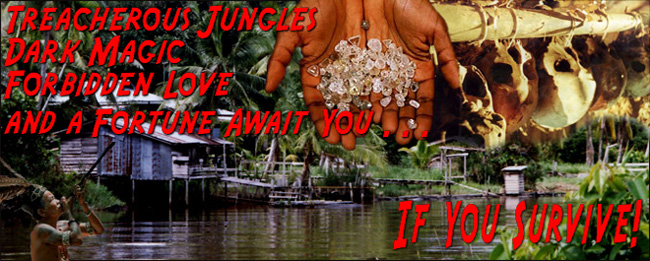 "I've heard it said that, in the tropics, you rented your life
from the devil malaria and quinine was the collector."
The Diamond of Jeru is an adventure story set in 1950's Sarawak, a British Colony on the north coast of Borneo. Mike Kardec, an expatriate American is hired by the local officials to guide John and Helen Lacklan, a visiting scientist and his wife on a expedition to find the stone that will fill her still empty engagement ring. When John fears his wife is attracted to their guide he fires Kardec and proceeds up river with a poorly chosen native who has shown him a sample of the huge stones he has found.
Fearing the worst, Kardec pursues them in the company of Raj and Inghai, two Kelabit tribesmen who have befriended him. The journey leads all of them far into the jungles and rugged mountains of the interior. Even as John and Helen's marriage is stressed beyond redemption, Kardec and his companions discover the mystery that lies behind a deadly Dyak warlord who has become the last of the Borneo headhunters. It is a mystery that will test each of them personally in a final conflagration of magic and fire and blood.


CLICK HERE - Find out how an abandoned pulp story defied the odds and
kept reinventing itself in prose, film, and finally as an audio drama.
From the mid 1980s to the late 1990s Bantam Audio Publishing produced four to six Louis L'Amour Dramatized Audio Productions each year. Shows were recorded in both New York City by David Rapkin and Charles Potter and in Los Angeles by Beau L'Amour and Paul O'Dell. They have featured artfully adapted scripts, dozens of wonderful actors, some very creative sound effects and either carefully chosen library music or a score specifically composed and recorded for the productions. The sixty plus shows in the series comprise one of the most interesting efforts in the field of Audio Storytelling since Orson Wells and the Mercury Theater was being broadcast on CBS.
Since then the tradition has been carried on by Beau L'Amour and Paul O'Dell, creating meticulously assembled, cutting edge productions. The first of these was Son of a Wanted Man, the first Louis L'Amour novel to be adapted to be an Audio Drama. The next project is The Diamond of Jeru ...