Now a USA Network Movie Available on DVD or VHD
Click HERE for more information.
A couple of years later I got a call from Michael Joyce, a friend that I had worked with in the film business a decade before. Mike, a producer who often worked with USA Network had just returned from a location scout in North Africa. On the return flight he'd had a discussion with one of USA's executives about how they were looking to do a classic adventure piece, a la Raiders of the Lost Ark. When they landed he called me to ask if I had something of Dad's that might be appropriate. After several discussions about various stories and what the budget of the film might be, we decided to show them The Diamond of Jeru.
EXECUTIVE PRODUCER MICHAEL JOYCE


on the appeal of making
the story into a movie

Click HERE to view
We completed all the legal paperwork by early December, a time when the entire film business starts to shut down for the holidays. Mike had arranged to bring me on as a producer (an offer so generous it still astounds me) but the more I looked over the story the more I realized that I wanted to write the screenplay also. That was vastly easier said than done, however. Studios and networks are very particular about who they hire as writers, usually choosing them from a extremely exclusive list. As a producer you would hope that the reason the list is short is because it only contains writers who are very good but my experience is that this is not always the case ... it's often difficult to figure why a certain name is chosen at all other than they are somebody's nearly random 'flavor of the month.' Though I had scripts to show off my writing and I'd been hired a few times in the past (on films that ultimately did not get produced) I knew it was very unlikely that I could submit myself and then actually be hired to write the screenplay for this film. If I was going to try I'd have to write an entire script on spec and then hope for divine intervention too!
Though not quite divine intervention, there were two things in my favor. One was that nobody was going to be seriously looking for a writer until they came back to work in the second week of January. The other was that there were contract negotiations scheduled with both the Hollywood writer's and screen actor's guilds that summer ... all production would need to be wrapped up prior to a potential strike in case the negotiations failed. That meant that the network would want to get into production as quickly as possible in order to not be effected by any potential strikes.
I started writing. One of the reasons that I wanted to work on the script was that I realized that there were many things I wished I'd changed in the novella but had not because of the rules I'd set up for myself about deviating from my Dad's work and the lack of time I'd had to work on it. I wanted to create a much more complete picture of life in Marudi, the little river port where the story starts. I wanted to portray more of the life of Borneo natives, dealing with them in a more complex manner than just Raj, Mike Kardec's friend, and Jeru, the villain. And I wanted to deal with John and Helen Lacklan in a close and personal way, not just as characters only seen through Kardec's eyes.
All these aspects helped bulk up the story to proportions that would make it a feature length film. At the time we were just starting post production on the audio play of Son of a Wanted Man so often I was writing out rough drafts of scenes in the editing room then polishing them late at night after we were done cutting. Over the holidays I traveled to Colorado, writing ideas on a clipboard as I drove then stopping occasionally to type up the various scenes. I wrote on the road, in our cabin, and also in a hotel room in Santa Fe, creating an adventure in the tropical rain forest while surrounded by snow. Returning to Los Angeles I had just enough time to do yet another draft in before the network resumed work for the new year.
My gamble paid off ... in reality using my script was the only way they would be able to finish before the dates the unions had set for potential strikes. They bought the script and I was on as both writer and producer. That's not nearly as impressive as the positions sound, when the bosses at the network say 'frog' you still have to jump, doing exactly what they say when they say it ... a lesson I've never been good at but was about to learn over and over. Within days there were a great many notes for revisions, some of which I found helpful and some that, like most screenwriters, made me wonder if I could ever create something that would satisfy both myself and the studio. It didn't matter, we were off and running.
We debated where to shoot the film, seriously considering actually shooting in Sarawak or Brunei until one morning an executive tossed a copy of the LA Times on the desk that displayed a headline that read something like, Headless Corpses found in Borneo River. "You are not going to Borneo," she told us.
The next choice was Australia, where the Queensland coast had both film infrastructure and the appropriate rain forest. Within a very few days Mike was off to open our offices and start hiring a crew and I was working on the vast number of changes that I had been told to make in the script. Days later, I too was on a plane for Sydney.
The next few weeks were a whirlwind of rewrites, location scouting, and local casting. The Australian immigration authorities would only grant five or six people from the US work permits for the film so everyone else in the cast and on the crew was going to be from Australia or New Zealand.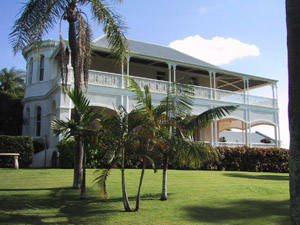 Many locations fell into line very quickly. After looking at a wonderful Victorian in central Brisbane, we settled on the old Queensland parliament building as our location for the District Officer's Residence. An old factory for railroad engines and cars near Ipswitch became our Warehouse and Marudi Marketplace location. Though we found a couple of adequate bungalows we decided to build Kardec's place at a reservoir near our offices because it had a wonderful rock formation in the background and on a local ranch we found the perfect place to build (and burn) Jeru's longhouse.
Constructed
from scratch

Only to
be burned
All this plus hundreds of hand-made costumes and custom made canoes were possible because the exchange rate was very much in favor of the American Dollar. Where we weren't so lucky was in finding all the required locations close enough to our hotels and offices. That is always the critical situation in films, every hour you travel to and from location is an hour of work that is lost, the more distant your locations the more important they had better be! There were 1950s vintage oil fields in southern Queensland and large, beautiful, caves. Unfortunately, the hours needed to transport the entire film company to these places put them beyond our reach.
Large rivers were also a problem. We scouted in the Cairns and Port Douglas area of northern Queensland and found some wonderful places but, again, the transportation up there turned out to be too expensive. Finally we discovered a spot that would solve a good many of our problems, an estuary not very far from the ocean. The other issues were solved with some last minute rewrites, replacing the scene we where Kardec wrecks his canoe while shooting some rapids with one where he is attacked by Dyaks. All films are an exercise in compromise, what you want balanced against what you need and learning how to rewrite and restage a scene (often at the last minute) that has existed only in your mind on a real-world location is part of the excitement.
One of the wonderful aspects of making the film was the way that the whole world of The Diamond of Jeru and 1950s Sarawak came to life. Locations that I had half imagined and props and costumes that I had never imagined all took on a sense of concrete reality, if only for the few days that we were working on a certain scene.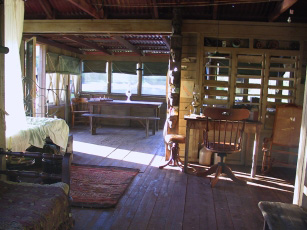 Inside Mikes Bungalow near "Marudi"
I could sit quietly in Kardec's bungalow (after the construction crew had gone home) walk the streets of Marudi (in the old railroad factory) or sit on the veranda of the District Officer's Residence (the old parliament building now surrounded the campus of the Queensland University of Technology). I had a chance to live in a tropical rainforest, deal with mosquitos so thick you could hardly breathe without getting a mouthful and realize that the crocodiles wouldn't attack until they became used to your presence (you hoped!). I was introduced to various items like the Seagull outboard motor that was a mainstay of the British Empire ... sort of a sea, lake, and river-going Land Rover ... Arnott's Biscuits and Neptune Soda, Australian food products of greater or lesser repute, and Bi-Aladdin Lamps, the down-under version of a Coleman. All of these things were experiences and items that detailed the time and the place in a way that was only now coming completely alive in my mind.
FEATURETTE

NOW Available
on DVD
or VHS Video

Click HERE
for more information and to purchase this action packed adventure!
All movie productions are full of wonders and disasters and The Diamond of Jeru was no exception. We did more on the budget we had than I had ever thought possible yet there were many times where what had seemed easy either back in LA or on paper became impossible. There were times when I was furious and then times when I was so thankful and amazed at what we were doing it nearly broke my heart. I was getting a chance to live and work in a foreign country, that in itself was incredible. I lived in an apartment a block from the beach in a place called Surfer's Paradise (straight out of a Jimmy Buffett song), I got a chance to work with over a hundred Australians and New Zealanders (a vastly different and better experience than being a tourist), and I had a wonderful chance to see a country I had often dreamed of visiting and to work with people who had be a part of many of the Australian films that I so admired.